President Donald Trump held a "Latinos for Trump" roundtable with local supporters in Phoenix, Arizona, just a day after holding a similar event in Las Vegas, Nevada. During his remarks, the president expressed optimism for Hispanic Americans and warned them against a leadership under Democrats, saying, "We're not going to be another Venezuela."
Speaking to a cheering crowd at an indoor venue at the Arizona Grand Resort, the president praised the Hispanic American community. "Hispanic Americans embody the American dream and they are great business people. … Hispanic Americans strengthen our nation beyond description," he said.
"You protect our nation as brave members of the military and as members of law enforcement, great, great members of law enforcement. You uplift the communities and promote our shared values of faith and family, community, hard work, and patriotism. You're an amazing group of people. And I love you and we're taking care of you and I'm never letting you down."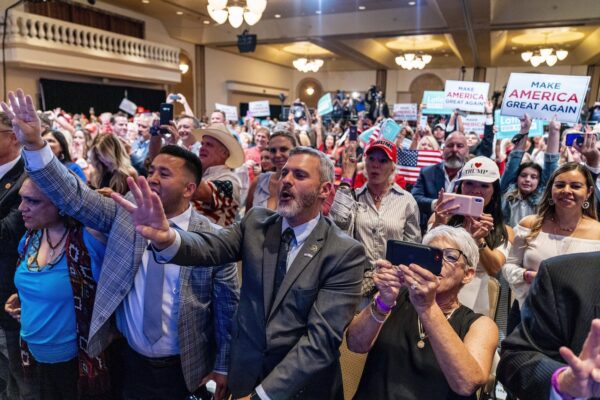 Arizona Gov. Doug Ducey welcomed the president and said the event "couldn't be a better way to kick off Hispanic heritage month," which takes place Sept. 15-Oct. 15. Ducey thanked Trump for the government's support through the CCP (Chinese Communist Party) virus pandemic.
In opening remarks at the roundtable, Trump spoke about his administration's actions that have benefited Hispanic American communities, which include various tax cuts and regulation cuts, and the creation of opportunity zones. He noted the White House Hispanic Prosperity Initiative, an executive order signed in July to improve Hispanic Americans' access to educational and economic opportunities.
Trump said that Hispanic Americans have seen the lowest unemployment rate on record.