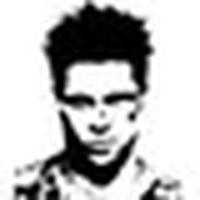 By
Tyler Durden
Summary:
Brazil passes 5 million cases
France suffers nearly 20k in latest record jump
Italy new cases highest since April
Scotland shuts bars in two biggest cities
NY sees hospitalizations near 750
Italy calls for masks worn outdoors
Brussels, Bucharest join capital cities cracking down on nightlife
Eli Lilly asks FDA for emergency approval for antiviral
Patriots Stephen Gilmore tests positive, along with 2 more Titans
* * *
Update (1715ET): Brazil has just passed 5 million coronavirus cases as of Wednesday, while it also approaches 150,000 deaths, the second highest death toll in the world.
Brazil has the third-largest total confirmed case load, and it's the third country after the US and India to pass the 5 million mark. Though the number of new cases reported daily has fallen since Brazil's July peak, health experts warn that the country is at risk of a second wave like what's happening in the US and Europe.
As winter ends, Brazilians are gathering in crowded bars and beaches, creating more risk of transmission.
* * *
Update (1420ET): With Paris joining Marseilles in lockdown, French public health officials have just reported some startling numbers: Public Health France counted 18,746 positive cases in the past 24 hours, vs 10,489 new cases confirmed during the 24 hours to Tuesday evening.
That beats the previous record high, the 16,972 cases recorded in the 24 hours to Saturday. In all, 653,509 people have been infected since the start of the epidemic.
The positivity rate continued to climb, suggesting that the surge in testing isn't the only factor driving the acceleration in new cases. Wednesday's positivity rate was 9.1%, vs. 9% on Tuesday.
In all, 653,509 people have been infected since the start of the epidemic. The test positivity rate continues to climb, from 9% on Tuesday to 9.1% on Wednesday. It was 8.6% on Monday .
Hospital admissions are also on the rise across France, as 4,625 new hospitalizations have been reported over the past 7 days. That's compared with 919 new patients admitted to the ICU on Wednesday vs. 911 on Tuesday.
The number of clusters under investigation increased by 96 over the past 24 hours to 1,267, including 239 people in state-run homes for the dependent elderly).
* * *
Update (1320ET): Though he didn't hold a briefing, NY Gov Andrew Cuomo released the latest statewide figures on Wednesday, showing that the hospitalization rate due to COVID-19 has climbed to 748, pushing further ahead to levels that we haven't seen since June.
In terms of new cases. the state is back to reporting more than 1,000 new cases per day, with 1,360 reported over the prior 24 hours.
Cuomo also shared a breakdown of the state's top 20 'hot spots'.
Numbers are rebounding in New York, New Jersey and Connecticut while Midwestern states including Wisconsin and North and South Dakota are seeing record numbers. Overall, however, it appears the post-LDW bump in US cases has plateaued.
Over the last two weeks alone, 30 states having seen their 7-day average of new cases rise by more than 10% , compared with the two weeks prior. 13 states are reporting positivity rates above 10%, including ND and SD.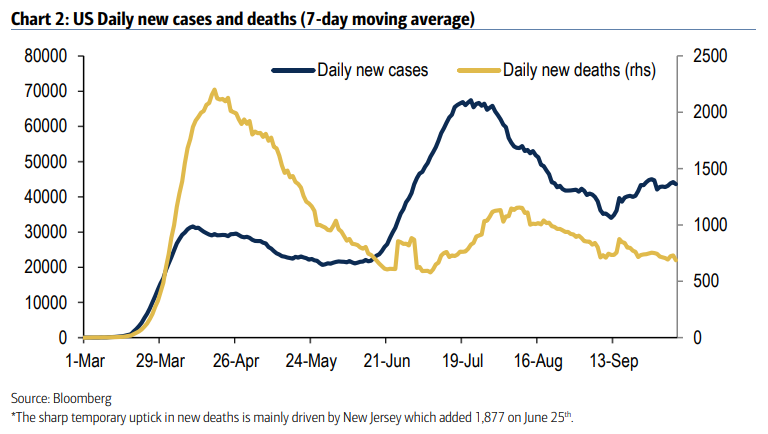 The picture is much rosier when examined from the perspective of deaths in the US, which have continued to slow, though hospitalizations have ticked higher over the past 2 weeks.
The 7-day average of COVID-related deaths in the US has declined to within striking distance of a three-month low of 700. Daily hospitalizations, at 1,370, have edged higher over the past two weeks, but remain 50% below their recent early-office peak.
On Tuesday, Cuomo published a presentation outlining the state's plans for quashing outbreaks in its new 'hotspots'. 
Cuomo also added New Mexico to NY's travel advisory list, meaning travelers from NM must quarantine for 2 weeks upon arriving in NY.
Meanwhile in addition to Brussels, Bucharest has also imposed new restrictions on nightlife as infections surge, following Berlin, Paris and Madrid. Scotland has also ordered pubs to close in Glasgow and Edinburgh, its two largest cities. These new restrictions will take effect at 1800 local time Friday, and last until at least Sunday Oct. 25. Romania's restrictions imposed in Bucharest mark the first time since May, as the city's ICU units filled with COVID-19 patients.
Indoor dining in Bucharest restaurants will be banned, movie theaters and regular theaters closed, while police will ratchet up patrols to catch scofflaws.
Finally, after the council of ministers approved a new mandatory mask mandate requiring Italians to wear masks outdoors when they're near others, Italy reported 3,678 new coronavirus cases on Wednesday, its highest increase since April 16, and above the previous seven-day average of 2,465. Daily tests rose to a record 125,314, with a positivity rate of 2.9%, compared with 1.8% a week ago.
* * *
In the face of growing evidence that wearing masks outdoors isn't an effective strategy for combating the spread of COVID-19 (the CDC, at the behest of the WHO, has acknowledge that aerosol transmission is only a major risk factor in 'poorly ventilated' areas), Italy is following through with plans to impose mandatory mask requirements across the country, part of a wave of rollbacks sweeping across Europe as the long-feared fall "second wave" appears to crest.
Italy's top public health officials imposed the mandatory mask order, the latest in a series of rollbacks in Italy aimed to try and tamp down a resurgence of the virus. Italy's council of ministers also voted to extend a state of emergency first imposed in March through the end of January, according to ANSA.
Effective immediately, the council also approved a new requirement for Italians to wear masks outdoors whenever they're near people who do not live together, ANSA added.
The measures arise as Italy's leaders extend and reshape the country's emergency measures to account for the resurgence.
But Italy wasn't alone in adopting new measures on Wednesday. As an outbreak roars in Brussels, the de facto capital of the EU, the Belgian capital decided to reinstate its lockdown conditions, closing all bars immediately for the second time.
Restaurants serving meals at a table can remain open, but bars and drinking in public will be banned until at least Nov. 8. Belgium, which has a surprisingly high mortality rate (the highest in Europe, and second only to Peru globally), has seen an alarming spike not just in new cases but in hospital admissins, which many fear could lead to another surge in deaths.
As infection rates surge in the UK, Prime Minister Boris Johnson's "localized lockdown" strategy has come under attack from opposition Labour MPs, including Keir Starmer, the party's new leader. Roughly 25% of Britons are currently living under restrictive virus-related restrictions.
Poland and the Czech Republic both registered record numbers on Wednesday – Poland reported record deaths for the second straight day, while the Czech Republic reported its largest daily jump in new cases, with 4,457 new positive tests over the prior 24 hours – as the outbreak spreads in Central Europe.
Deaths in Iran have continued to surge, with the Islamic Republic reporting another 239 deaths with another 4,274 people in critical condition. With his country in the grip of a full-blown outbreak, Iranian President Hassan Rouhani begged the international community to loosen sanctions on Iran's economy to help alleviate the country's suffering.
Moving on to the US, the biggest COVID-19-related news out Wednesday morning concerns the NFL. After quarterback Cam Newton tested positive the other day, NFL Network reports that Patriots star cornerback Stephen Gilmore has tested positive as well.
Gilmore's positive test is the first since the team traveled to Kansas City on Monday night to play the Chiefs, a game that had been originally scheduled for Sunday.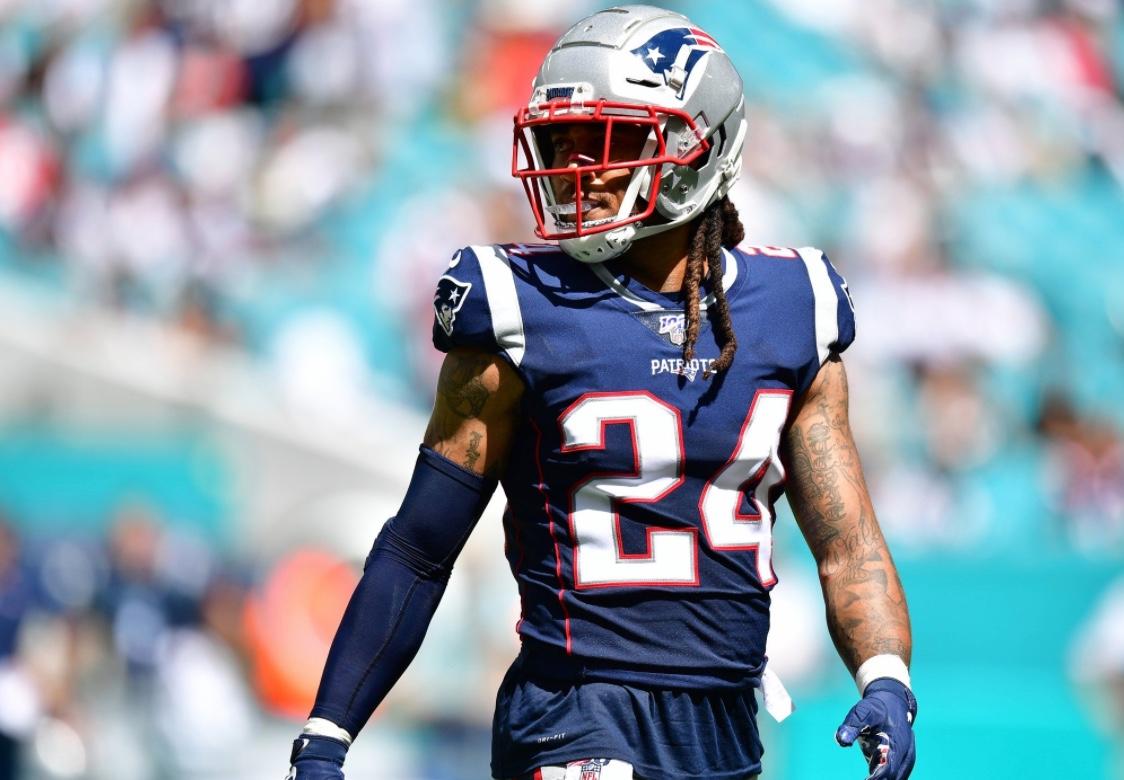 Another player has tested positive. Additionally, two more players on the Titans have been sickened, the latest in an outbreak that has sickened 20 players and personnel. The team's game with the Bills on Sunday is now in jeopardy, which could create serious problems for the team's schedule.
Finally, Eli Lilly shares rallied in premarket trade as the company asked the FDA for emergency authorization for its COVID-19 antibody drug, with the company telling regulators it could supply 1 million doses of the drug this year. The treatment is aimed at people with mild to moderate COVID-19. A new study shows that the drug combined with another antibody reduced viral load, symptoms and hospitalizations in patients. It's similar to the Regeneron treatment taken by President Trump.